Online and Mobile Banking
Overview
Access your accounts securely anytime, anywhere.
At Pinnacle, distinctive service means providing our clients with convenient ways to manage their money. These videos show how our online banking can help.
Whether you are at home, at work or on the go, we can help you get the access you need. With our digital services you can:
Manage your Pinnacle accounts. Check your account balance, search transactions or transfer funds between your accounts online, from your phone or on a tablet.
See your full financial picture. Set up external accounts such as investments, credit cards or student loans. Budget and set goals using My Spending. 
Deposit checks from our iPhone or Android app.
Make payments to anyone – businesses or individuals. Get bills electronically, make same-day payments or pay other people using just their email address.
Set up custom alerts for everything from account balances to debit card transactions.
View your statements electronically and up to 24 months of account history starting once you enroll in online banking. Our online security means your statement is protected by your online banking login.
Online Banking
Pinnacle sees convenience as an integral part of distinctive service.
We are committed to offering efficient, effective and secure ways of delivering your financial information. Below are just a few ways we make your life more convenient.
Real-time. Any time. Your financial records are up-to-date 24 hours a day, seven days a week. Check balances, review account activity and see pending transactions from anywhere.
Manage your bills.Not only can you pay virtually any business or individual with our free online bill pay services – but you can also view history, set up auto payments and receive email reminders when a bill is due. We also offer same-day or overnight payment capabilities for a nominal fee. Read answers to frequently asked questions about expedited payments here.
Pay other people. You can easily pay individuals using only their email address or mobile phone number for a small fee. 
View history. We offer up to 24 months of account history starting once you enroll in online banking. You can research transactions and produce reports based on criteria such as check number, date or amount.
View and print check images. You'll see the front and back of your cleared checks online.
Transfer funds.Set up a one-time transfer or have it happen every week – it's up to you.
Stay alert.Track your account balances and transactions with a variety of email alerts. Need to know if your balance is low, when a large check has cleared or if your pay has been deposited? We'll send you an email.
Go paperless. Sign up for eStatements on all your accounts. We'll send you an email when your statement is available.
Pinnacle recommends that you use the latest 128-bit encrypted browsers for increased security:
Mobile Banking
Access your accounts on the go with free and secure mobile banking.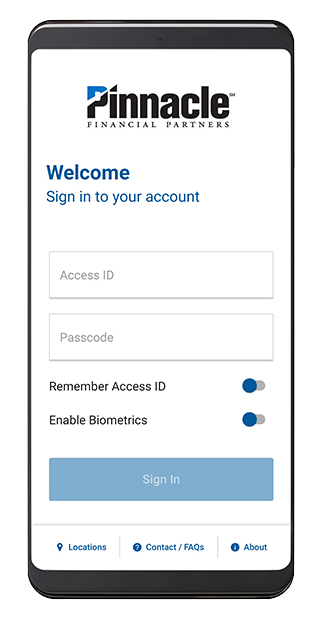 Text or app. Once enrolled, you can text us using these quick texts or download our Android/iPhone apps.
Manage your finances. Check your current account balance and search recent transactions by date, amount or check number. Easily transfer cash between your accounts.
Pay your bills. Make payments and view recent scheduled payments with online Bill Pay for mobile devices.
Make deposits. Submit check deposits using your device's camera. You can read our FAQ for more information.
---
NOTE: Pinnacle offers mobile banking as a free service. Your wireless provider may charge for data usage. Please consult with your provider to determine what these charges will be. The "Enroll Now" and "Demo" buttons below are for Pinnacle's online banking service, not for mobile banking.
Make Payments
Schedule one-time, occasional or recurring payments.
With our free Bill Pay service, you can:
Pay virtually any bill – from your cable to the guy who mows your lawn – in one easy, secure location. 
Never be late again. Enter the date your bill is due and we'll make sure it gets there on time. We'll debit your account on the due date. You can even set up bill reminders and payment confirmations that are emailed to you.
Expedite payments. When needed, you can also make same-day payments or send overnight checks for a nominal fee to ensure bills are paid on time.
Go paperless. Sign up for e-Bills on many services – such as Comcast Cable – so you can receive the bill directly in online banking.
Security
Pinnacle's online banking carries several levels of security.
New: Read about the security enhancements new to Pinnacle Online Banking in 2022.
From account information to personal data, the Internet has become a key place for criminals to get information. The good news is there are simple ways you can safeguard your online accounts and personal computers. See our online library of resources on how to protect yourself from fraud. 
Secure connection. Your data is scrambled as it travels from our computer to your computer. All online banking pages use the highest standard of Secure Socket Layer (SSL) encryption available to prevent thieves from accessing your banking data.
Password protected. The importance of picking a good, secure password can't be emphasized enough. The objective when creating a password is to make it as difficult as possible for anyone to make an educated guess about what you have selected. Here are some tips for creating a strong password:

Make it lengthy. Each character you add increases the protection.

Combine letters, numbers and symbols. The greater variety of characters you have, the harder it is to guess.

Avoid sequences or repeated characters. 12345678, 222222, abcdefg, or adjacent letters on your keyboard.
Beginning August 11, 2022: One-time PINs. We'll recognize the computers you use frequently. If we don't recognize the computer trying to access your accounts – say you've logged in from work or removed cookies from your existing web browser – we'll require you to enter a one-time PIN, delivered to your mobile device or email address. We'll also use one-time PINs for certain essential functions like changing your address or setting up external transfers. 
Ending August 10, 2022: Security questions. We'll recognize the computers you use frequently. If we don't recognize the computer trying to access your accounts – say you've logged in from work or removed cookies from your existing web browser – we'll require a correct answer to your challenge questions before allowing access.
Alerts and controls. You can set up security or account activity alerts to be notified when certain actions take place, like when an online transfer is processed or a check number clears. You can also establish alerts and controls for your debit cards, such as placing a temporary hold on a card if it's misplaced or blocking international transactions.

Learn more about debit card controls here.

Advanced features. Finally, the online banking site is protected by the most advanced firewalls and monitoring tools available on the market today. All of these features make online banking secure and safe.
What can you do to protect yourself online? See our online library of resources on how to protect yourself from fraud.
My Credit Score
Keep tabs on your score in Online Banking.
My Credit Score is a free tool to help you keep an eye on your score. It shows a weekly look at your credit score, the elements that make it up and recent events that affect it. It's available in Online Banking and our mobile app.
Where is My Credit Score?
My Credit Score is one of the widgets available in Online Banking. Widgets are in the right-hand column on the Overview page. You can personalize which widgets appear by clicking the pencil icon and unchecking the widgets you want to hide or reorder them.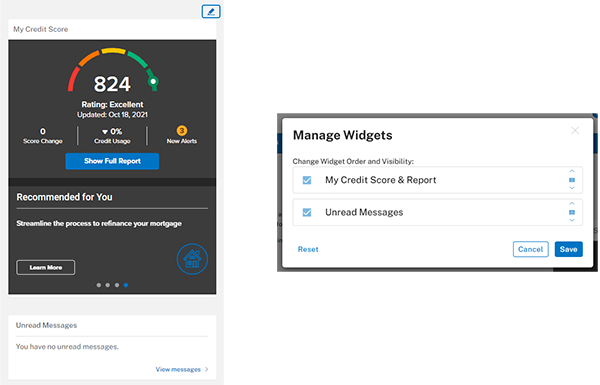 When you click My Credit Score to open the full tool, it will open as a new window in your web browser, showing a website separate from Online Banking called SavvyMoney.com.
In the Pinnacle mobile app, My Credit Score is available on the welcome screen with your account overviews. 
How do I enroll?
You are not enrolled in My Credit Score automatically. To take advantage of this feature, you must be 18 or older and will need to opt-in. That includes giving My Credit Score authorization to perform "soft pulls" of your credit score. These soft pulls will not affect your credit score.
To enroll, click the "Show My Score" button on the My Credit Score widget.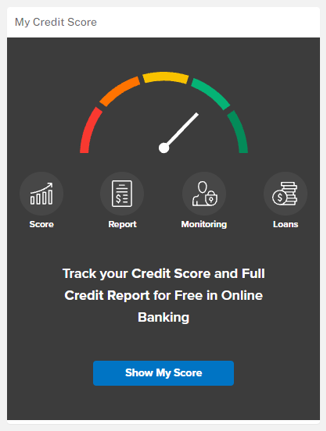 You will be taken to a form asking for your permission to retrieve your credit score and report.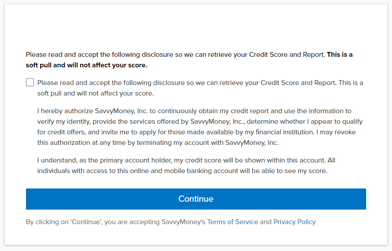 A few users may be asked to confirm or correct personal information at this point. Most will not.
You will then be taken to a dashboard showing your score and several options for analyzing and exploring it.
See a full list of the features available in My Credit Score.
Debit Card Controls and Alerts
Take full control of how, when and where your cards can be used.
Debit card controls and alerts help keep your accounts secure and your money safe.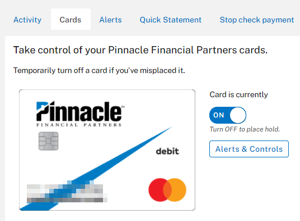 Through our personal Online and Mobile Banking, you can:
Temporarily turn your card "off" if you misplace it.
Get email or text notifications if a purchase is over a certain limit or made in a certain channel—or all purchases, if you prefer.
Deny transactions over a certain limit or used in certain channels, such as online, at an ATM or via digital wallet.
Get alerted to or deny in-person international transactions.
Card controls are fully integrated into Pinnacle's Online Banking and mobile app. Just click the "Cards" tab on your account page to get started.
View our "how to" guide for managing card controls and alerts.
Get answers to the most frequently asked questions on card controls and alerts.
---
Placing a hold on your card will prevent new transactions—including purchases, ATM activity and digital wallet transactions—from being approved while you try to find it. However, transactions that are flagged as previously authorized recurring payments, credits, refunds and reversals may be approved while your card is turned off. Turning your card off is not a replacement for reporting your card as lost or stolen. If you've lost your card and are unable to recover it, call us to cancel it and receive a new one. Contact us immediately if you believe unauthorized transactions have been made.